Business documents
We have collated and customised some of the most important business documents for your drone or creative business. These documents are the backbone of any business, often costing thousands and many hours drafting.
We have done the hard work for you and saving you thousands of dollars and time!
8x Starter documents included:
‣ Call sheet/ Shoot schedule
‣ Non-Disclosure Agreement
‣ Creative Brief
‣ Engagement letter
‣ Subcontractor Agreement
‣ Website Terms
‣ Website Privacy Policy
‣ Price list (Real Estate)
BONUS!
‣ Business running costs calculator
IMPORTANT: These are templates only, you should always seek legal advice when using these for your business.
How to use these template
The information in this template provides some base content for you to use and modify with information that relates to your specific business. Follow the steps below:
1.    Replace the yellow highlighted items with your business information
2.    Confirm with a legal practitioner that the contract terms are aligned with your business or make amendments
3.    Happy flying!



Available in days

days after you enroll

BUSINESS STARTER DOCUMENTS (8X PACK)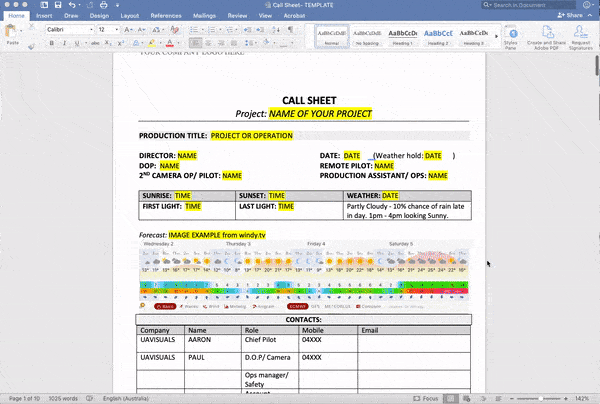 Call sheets contain all the vital information you need for a smooth day of production on set
A call sheet is a document sent out to the cast and crew that outlines where they need to be for the shoot day. It also outlines the daily shooting schedule, informs the cast and crew of weather conditions, parking regulations, contacts, shoot lists, and all other pertinent details.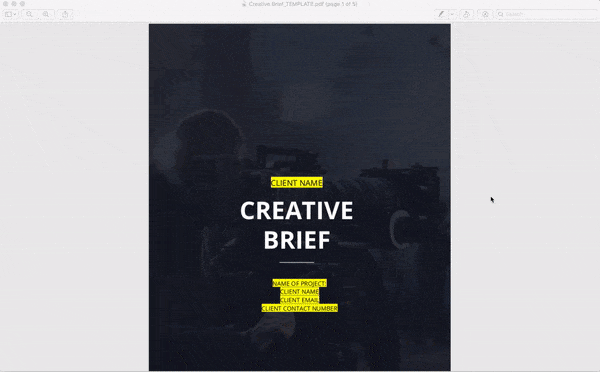 The creative brief is the foundation of any successful creative campaign. It outlines the client's vision and ensures that everyone is on the same page.
This template will enable you to understand the strategy, context, and important key considerations for the project of your client.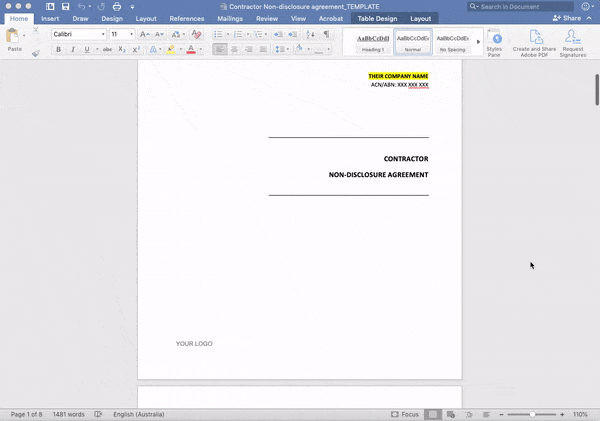 Non-Disclosure Agreement (NDA)
A non-disclosure agreement is a legally binding contract that establishes a confidential relationship between two or more parties. The party or parties signing the agreement agree that sensitive information they may obtain will not be made available to any others. An NDA may also be referred to as a confidentiality agreement.
Non-disclosure agreements are common for businesses entering into negotiations with other businesses. They allow the parties to share sensitive information without fear that it will end up in the hands of competitors. In this case, it may be called a mutual non-disclosure agreement.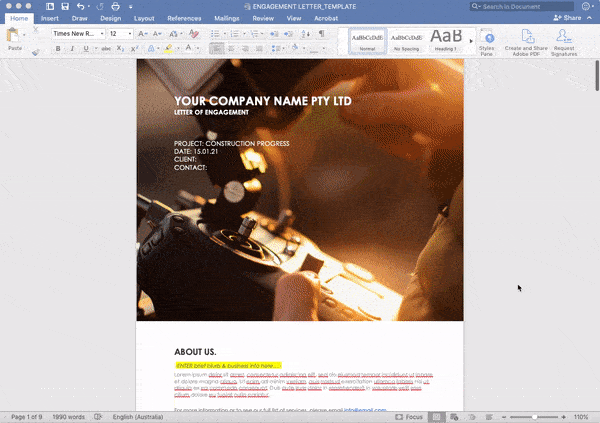 An engagement letter is a written, formal agreement that describes the business relationship to be entered into by a client and a company.
The letter details the scope of the agreement, its terms, and costs. The purpose of an engagement letter is to set expectations on both sides of the agreement.
A letter of engagement serves the same purpose as a contract between two parties. Its format is less formal than a contract and generally avoids legal jargon. The letter is intended to briefly but accurately describe the services to be delivered, the terms and conditions, the deadline or deadlines, and the compensation. A letter of engagement is a legal document and binding in a business deal.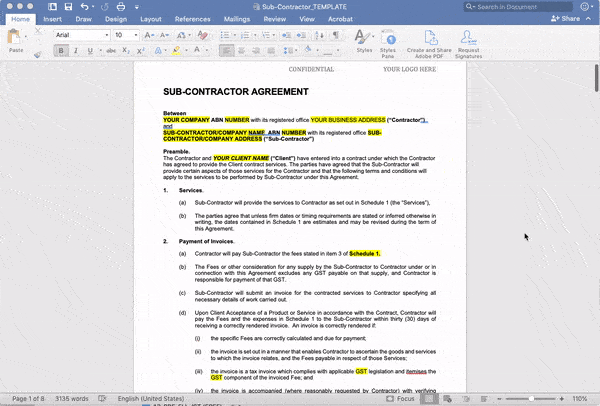 A Subcontractor Agreement is a contract used to set out the terms of an agreement between one independent contractor who hires another independent contractor (known as the subcontractor). In other words, if a contractor is hired to complete a task and they hire another person (a subcontractor) to assist them in a specific part of a task, then a Subcontractor Agreement will be used to specify the terms under which the subcontractor will perform the task for the contractor.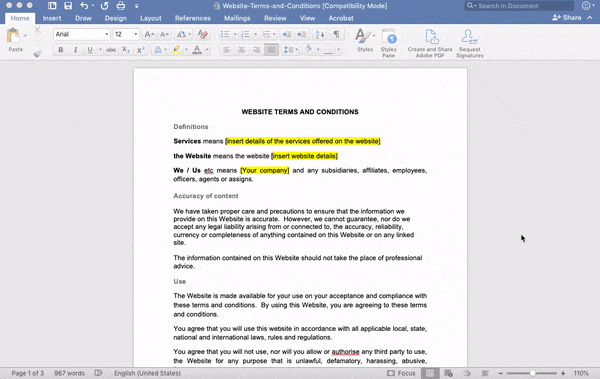 Website usage terms & conditions
Website Terms and Conditions (Ts&Cs) are a detailed legal notice which states the terms that visitors, users and customers of your website must agree to in order to browse your website or use your products and services.
It protects you from customers claiming to have suffered loss from your content or using your products or services. It also protects you from visitors of your website copying your content, claiming damages from viruses, etc. It is intended to cover visitors, users, purchasers of your products and subscribers to your services.
Website Ts&Cs are intended for users, subscribers, and customers of your website. By contrast, a Website Disclaimer is less comprehensive and just intended for general website visitors.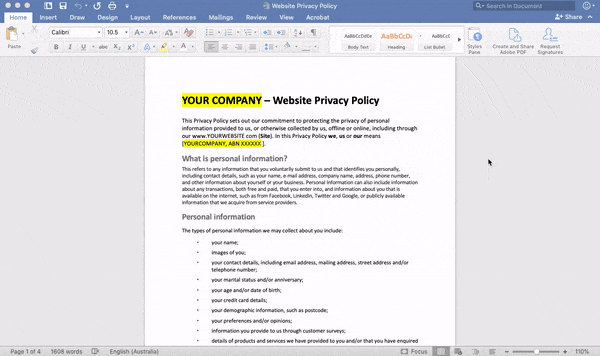 A privacy policy tells your website visitors and customers that you will keep their personal information secure and confidential and that your business is compliant with Australian (or your countries) law. If you request their email address, you will not 'spam' them or sell their email address to a third party. If you collect financial, health or personal information, you will not share this information with anyone else.
Your Policy is your opportunity to reassure your website visitors and potential customers that you are a reputable business, aware of their privacy concerns and the security of their information and that you are a professional business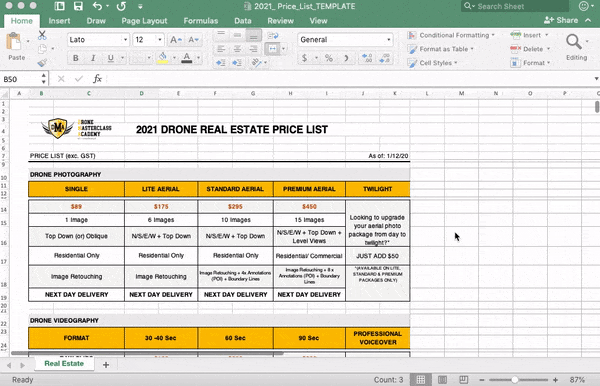 A price list is simply your charges for your service or offering laid out on a simple, easy-to-read document. This document will enable you to send this to your prospective clients.
Keeping this list on hand also helps with calculating profitability and viability on a job by job basis.
This price list should used in conjunction with your Job Profit calculator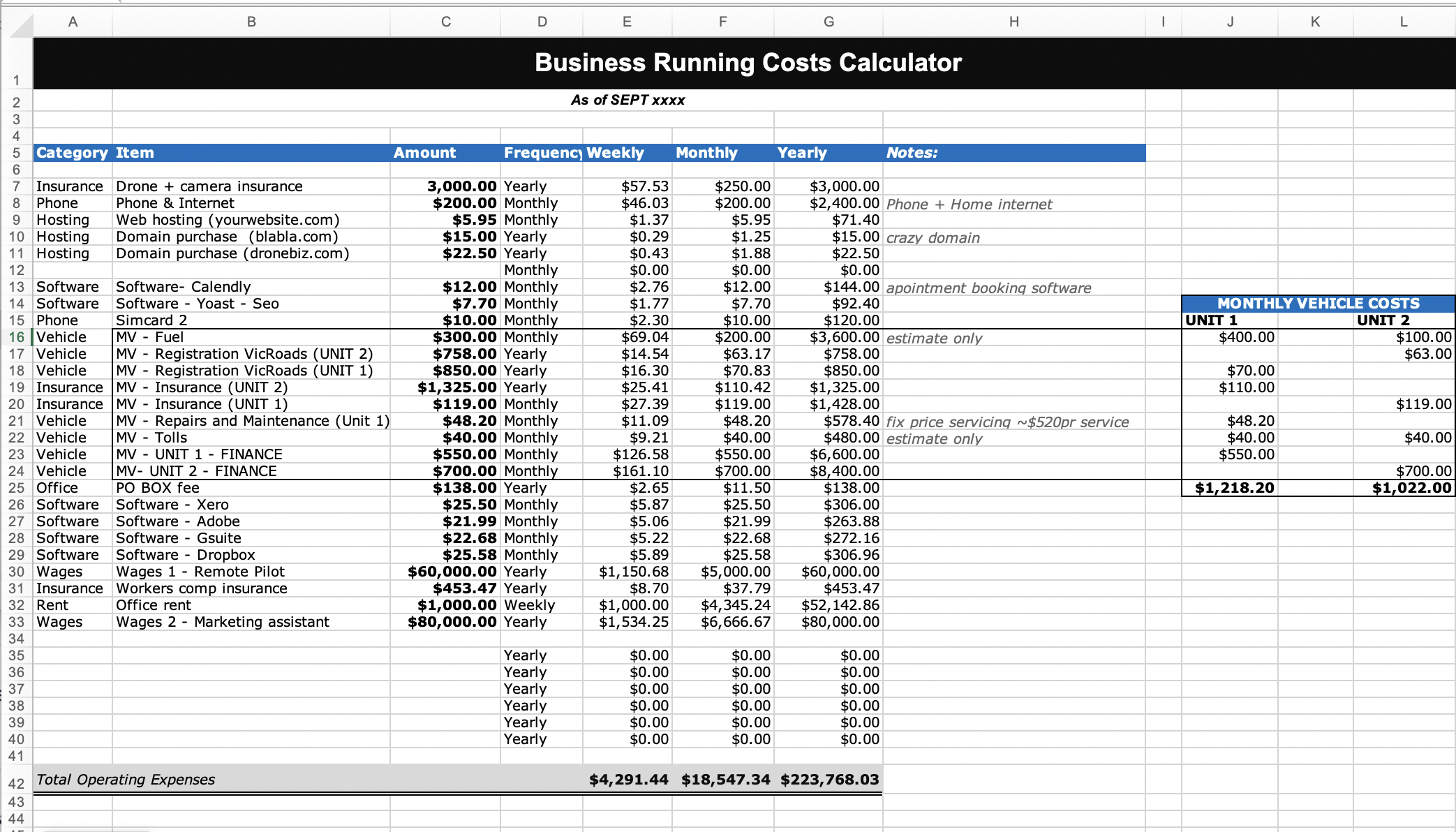 Business running costs calculator

This is a fantastic simple calculator to get an overview of your business operating costs on a weekly/ monthly/ yearly basis.

Simply enter the category, Item, and amount, and select on the dropdown n 'frequency' to either weekly/ monthly or yearly and it will pre-populate across the row and also tally up the bottom. The totals will help you see your business costs at a glance and is a very handy tool for budgeting!
On the 'Summary' tab at the bottom, this will give you a high-level summary of the breakdown by category. So you can see how much you are paying for software on a weekly/ monthly/ yearly basis